First of all, congratulations on planning your home birth! I gave birth to both my babies at home and I'm such an advocate of birthing babies in the safety and comfort of your home. I've done it as a first-time mum in a birthing pool and then with my second as an empowered freebirth, and I can honestly say both experiences were amazing.
You can read more about home birth, including my experience of it with my first baby, in my in-depth guide Giving Birth At Home. But for now let's get straight to business and look at what your home birth must-haves are.
Coming from someone who's done it twice, you honestly don't need all that much for a home birth. Your midwife will let you know what they feel is essential. However these are the items most of them will ask for:
Key documents e.g. maternity notes and emergency numbers
Old towels, including an extra large one
Plastic sheeting/tarpaulin
Blankets
Bin bags
A hot water bottle and foil
Maternity pads
Bed pads
There were some other nice-to-have items as well so I'll go through everything I personally had as my home birth must-haves.
BABY! This is a reusable block, so whatever edits you make in it will apply everywhere it is used. If you want to remove this disclaimer from a post then be careful to delete the parent block (type 'Reusable Block' – icon is lego brick), and not to delete the group, image and/or the paragraph blocks (cos then they'll be deleted from every instance of the reusable block).
Disclaimer: This post contains ethical affiliate links that I genuinely recommend. I may receive a small percentage of any purchases you make as a result of clicking those links. This comes at no extra cost to you and helps me to run this site. Read my full disclosure
Key documents
These include. your natural birth plan, maternity notes and important phone numbers. Don't just rely on having these numbers in your phone as someone else may need them in an emergency.
An extra large towel
If you're planning a water birth you'll need a nice, big clean towel for you and the baby to snuggle up in and get some skin-to-skin time.
Old towels
I know this is a bit of a Hollywood home birth cliché ("GET ME HOT WATER AND TOWELS RIGHT NOW!!") but seriously, get as many as you can lay your hands on. They'll be especially useful in the case of a water birth but midwives seem to get through piles of them even with a dry birth.
For a good ecological option try posting in your local Facebook group and asking for people's old towels. Most folks are more than happy for you to take them off their hands!
Plastic sheeting/Tarpaulin
Not a very eco-friendly essential but very important to protect furniture, carpets etc from water (if you're having a water birth) and the various bodily fluids you'll be producing!
To minimise the environmental impact you could again ask in your local Facebook groups to see if anyone has any old shower curtains or plastic table covers to give away. Or invest in a big tarpaulin if you think you'll be able to use it after the birth. We use the one our son was born on to cover the garden furniture in winter. Obviously the downside is that someone will need to clean it but I'll leave that problem with you 😜
Receiving Blanket to wrap baby in
For both my babies, I used a blanket my mum had made for me when I was a baby which obviously had more meaning than buying new or even second hand. However I do love Aden + Anais silky soft bamboo dream blankets if you don't have any hand-me-downs and would like something truly special to envelop your little one after their long-awaited arrival into the world.
A bucket
I spent a lot of my time with my head in one of these during my first birth and I recommend you have one on standby!
A way to keep cool
I had a USB rechargeable hand fan that provided a lot of relief from the nausea of labour. I also made sure there were flannels available. Labour is hot work and, depending on the season, you might find yourself in the middle of a heat wave like I did so make sure you've got options for keeping cool.
A hot water bottle and foil
Fortunately these items weren't necessary, but they were requested by my midwife in case there was a medical need to quickly raise the baby's body temperature. A hot water bottle is also useful for pain relief in the early stages of labour.
Container, cool bag and ice blocks for placenta storage
This is only necessary if you plan on keeping your placenta for consumption, burial or artistic purposes. I've got a post about placenta consumption here , but if you already know you'll be keeping yours, you'll need a 1.5-2.5L container.
Water bottle with straw
I had another water bottle already but someone recommended one with a straw for labour and I am SO glad I got one. It just means you can sip water from any position and don't have to shift position to have a glug. It made a huge difference and I still use it on a daily basis as it makes it easy to drink a load of water.
I LOVE Ocean Bottle, who make a fantastic flip-lid bottle as well as open topped ones. They come in some fab colours and are made from recycled stainless steel, silicone, and BPA-free ocean-bound plastic. Not only that, they have a 10-year warranty so, although they're an investment, you know they're built to last.
Bin bags
Birth is never completely zero waste so you'll need a load of bin bags for the midwives. Make sure they're with your birthing kit so they don't have to fumble around looking for them in the back of the kitchen cupboards!
Snacks and drinks for your birth team
Depending on how long you're going at it you may even want to go the extra mile and shove on a slow cooker stew in the early stages so you and your crew can get some much-needed sustenance later on.
TENs machine
Excellent for helping relieve pain in the early stages – if you're doing home birth you'll be limited on pain relief and therefore this is a MUST. I bought mine very cheaply second hand so see what's in your local area. Alternatively you can get a very high quality one from Superdrug for £29.99.
Birthing ball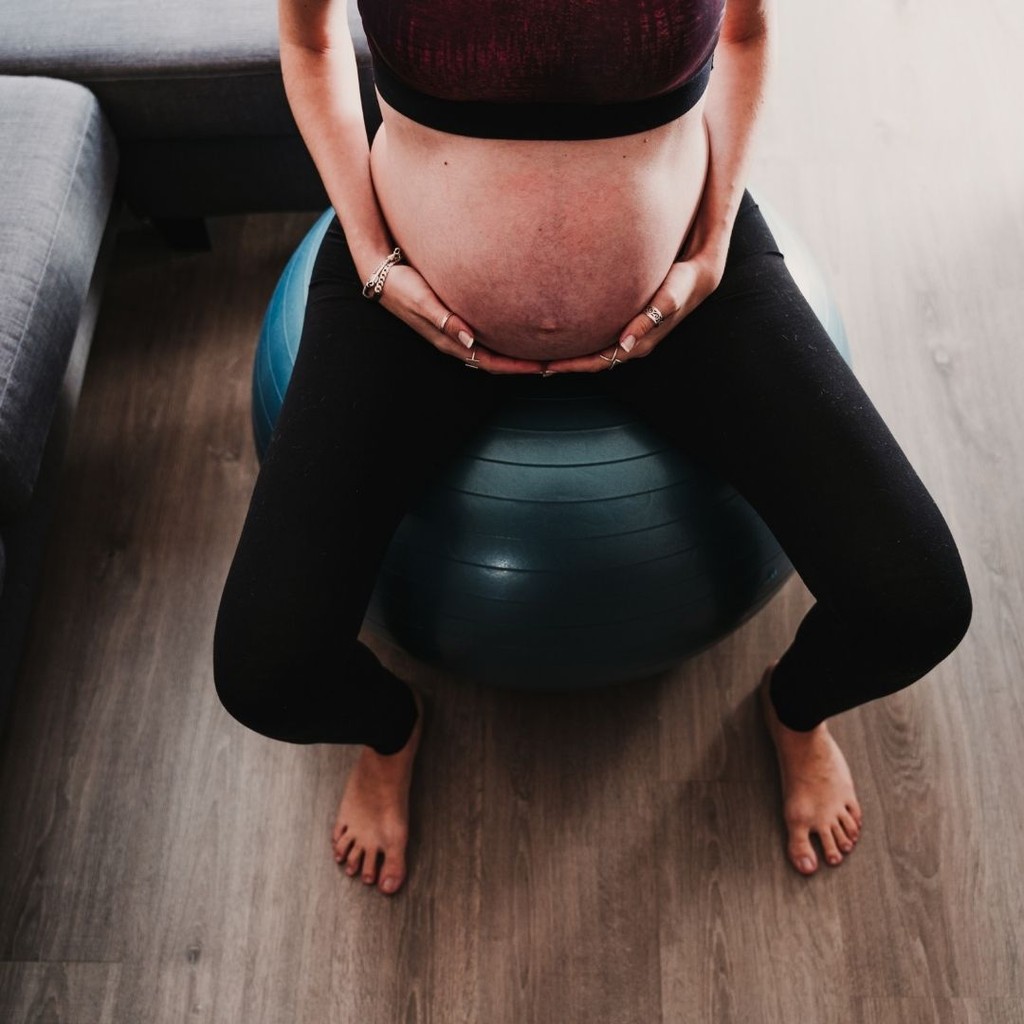 These are super useful for finding comfort and aiding various birthing positions – you can pick one up from Etsy.
Also, check out the Spinning Babies® website for excellent free resources on optimal birthing positions using the birthing ball, plus tips on preparation for natural labour.
Massage oil
Having your birthing partner, doula or midwife give you a massage between contractions is a wonderful way to get some much-needed TLC during labour. Personally I love sweet almond oil and Tisserand have a beautiful ethically harvested and 100% vegan one. It will be perfect for use in baby massage too.
Essential oils
Again Neal's Yard is the place to go for ethical essential oils to add to your massage oil or diffuser. They have everything from calming lavender to invigorating citrus blends. Just make sure you know how to use essential oils safely during pregnancy – obviously during birth you're FINALLY near the end of your pregnancy but better safe than sorry!
Diffuser
Investing in a good diffuser will really help see you through not only your home birth but the rollercoaster ride of baby sleep over the months ahead. I got my diffuser with labour in mind but I still use to fill the bedroom with lavender scent for Ursula's bedtime routine and with eucalyptus when she has a stuffed up nose.
Music player
Having some relaxing music and birth affirmations really helped me towards the end of labour but you may also want an energetic soundtrack for motivation! Whatever your choice of tunes, some kind of music playing device (with plenty of charge if it's wireless) is definitely a home birth must-have. I've got a Bluetooth speaker from John Lewis to link with my phone and I love the convenience of being wireless.
Hospital bag
Hospital transfers aren't always emergency ones, often women decide on the day that they would rather be where the drugs are! Obviously if you're planning a home birth the hope is that you won't end up transferring but I do recommend having a bag ready just in case, even if it's just the bare essentials. The last thing you need is to have to think about packing while you're in the middle of labour and, for me, I'm the sort of person who wants to pack my own bag rather than have someone else do it for me on the fly. If you're not sure what to pack check out my guide to packing an eco-friendly hospital bag with a free checklist to download.
Maternity pads
Post-birth bleeding is very much a case of skipping nearly a year's worth of periods and then having them all come at once! I personally like to support small independent businesses here, so check out FabPads or some of the other indie makers of reusable pads on Etsy.
Having said that, in the first few days after birth I couldn't face the laundry and faff of reusable towels so I initially used Natracare maternity pads, which were brilliant. Nothing is 100% biodegradable in landfill so these do have an environmental impact, but they're pretty ethical as far as disposable pads go and are very reasonably priced for an organic product.
Maternity pants
Speaking of endless periods you'll be needing some big, baggy comfy knickers for immediately after birth and the next couple of weeks. Seraphine have some lovely soft bamboo over the bump maternity pants that would do the job.
Reusable bed pads
One of the most wasteful items usually listed on a home birth kit is disposable bed pads. As useful as they are for protecting your bed sheets and sofa from the inevitable leakage in the first few days postpartum, I personally couldn't bear all that waste. Instead I opted for buying two second hand cot mattress protectors, one to wash and one to use.
I also found these eco-friendly puddle pads on Etsy – although more of an investment, bear in mind they'll come in handy further down the line for potty training. In the meantime, they're the perfect size for popping under your bottom while you sit back, take it easy and snuggle your lovely little newborn.
---
So that's it, everything I needed for an eco-friendly home birth. Don't forget to check out my in-depth guide Giving Birth At Home for more information on how to prepare for your home birth. I hope it goes really well for you and you have as positive a home birth experience as I did.